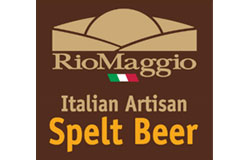 Rio Maggio Spelt Beer
REFRESHING, GREAT TASTING,
ARTISAN CRAFTED BEER
The Beer You Can't Put Down!
Tuscan Artisan Spelt Beer
Spelt is an ancient grain and is known to possess a number of health benefits. For this reason, spelt was the favourite grain of Hildegard von Bingen, a pioneer of today´s health movement back in the Middle Ages. Spelt beer is considered extremely digestible and conducive to good health. Rio Maggio presents a unique and refreshing new taste. Brought to you from Italy and produced near the province of Lucca, Tuscany.
These inspiring craft beers have a distinctive complex flavour without that usual strong bitter finish. They delight with their natural sweetness and impressive spicy aroma of pepper, citrus and fresh yellow fruit.  Importantly, they satisfy without the usual bloating effect, consequently making Rio Maggio Spelt Beers one of the most revitalizing and rewarding beers within the micro brewing industry.
THESE BEERS ARE NOT SHOWN TO CAUSE BLOATING.